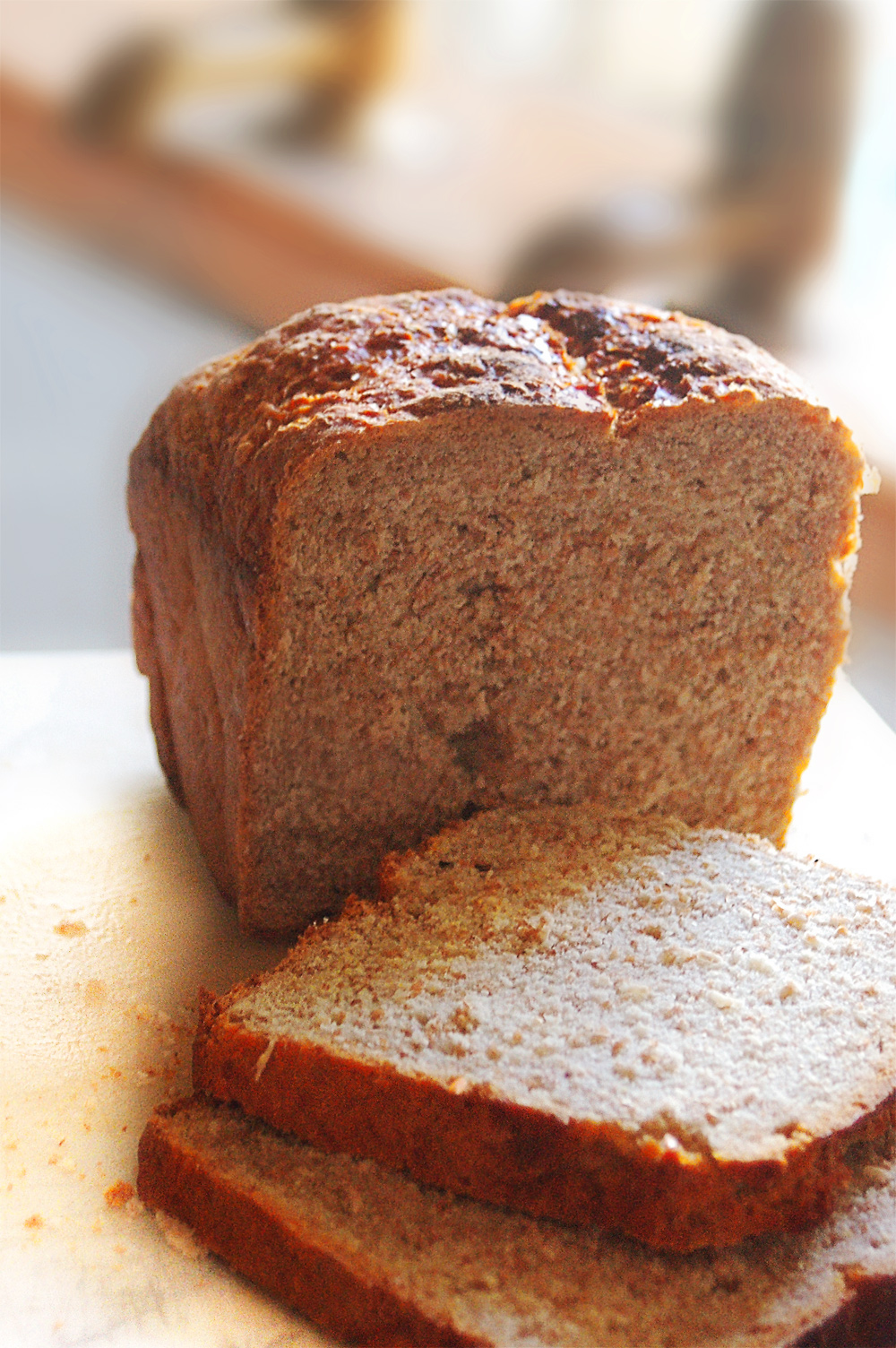 Nothing quite draws a person in like the smell of fresh bread baking in the oven. There's almost no resisting that delicious flavor and texture unique to home-baked bread. But making your own bread is a lot of work, right? It doesn't have to be.
As a rule we publish grocery shopping tips here. But today we'd like to suggest not to go shopping at all, or maybe shop for some ingredients only. That'll be real shopping on a budget!
Here are three simple recipes to follow to make three different kinds of healthy bread that your friends and family are sure to enjoy.
Whole Wheat
A simple and delicious basic bread recipe is like gold in terms of food nutrition. You can make it for far less than buying loaves at the store and it is way better tasting and you know what's in it. The following recipe is made with 100% whole wheat but is soft and moist with a gentle hearty flavor.

This recipe is adapted for hand-making (rather than bread machine) from 100 Days Of Real Food. I make several loaves of this every week and it's great for sandwiches.
Honey Whole Wheat Sandwich Bread
4 1/4 cups whole wheat flour (I like to use a mix of unbleached white whole wheat and regular whole wheat)
1/2 teaspoon salt
1 1/2 cups warm water
1/4 cup honey
2 tablespoons olive oil or melted butter
1 packet or 2 1/4 teaspoons yeast
Mix flour and salt in a large bowl and set aside. Add the honey to the warm water and mix to dissolve. Add yeast to water and let sit for 3-5 minutes until bubbly/foamy. Pour the water/yeast/honey mixture and the oil into the flour and use a sturdy wooden spoon to mix (you can also do this in a stand mixer). When it becomes difficult to mix, use your hands. When all ingredients are combined knead the dough for approximately 8 minutes, or until smooth and elastic. Cover with a damp towel and let rise until double in size.
Punch down the dough and remove from bowl. Knead on a floured surface for about 2-3 minutes. Shape into a loaf (rolling and pinching edges under) and place in a greased loaf pan. Cover with damp towel again and allow to rise for 30 minutes. Remove towel and bake at 375 degrees for 30 minutes, or until loaf is golden brown and sounds hollow when tapped.
Focaccia
Focaccia is an Italian bread that is crispy and golden on the outside and soft and airy on the inside. It's a great accompaniment to a variety of health family meals from soups to pastas and even tastes amazing simply dipped in seasoned olive oil. It's thick, cushiony texture lends it to sopping up sauces. Focaccia is often made with a sponge (or starter) that needs to soak overnight. But this recipe simplifies focaccia without losing the flavor or texture.
Focaccia
3 1/4 cups flour (you can use unbleached all-purpose or a combination of all-purpose and whole wheat. For 100% whole wheat use unbleached white whole wheat flour to keep the light texture)
1 envelope or 2 1/4 teaspoons yeast
1 tablespoon sugar
1 teaspoon salt
1/4 cup olive oil, divided
1 2/3 cup very warm water
Coarse salt (other seasons as desired)
Mix flour, undissolved yeast, sugar and salt in a large bowl. Add 2 tablespoons olive oil and the water. Stir until well mixed. Spread dough into a greased 13×9 inch pan. Grease hands to make spreading evenly easier.
Cover and let rise until doubled, about 30 minutes.
Remove cover and poke holes across the top of dough with the handle of a wooden spoon or with your fingers. Drizzle with remaining olive oil and sprinkle with coarse salt (add any other seasonings you like now, dried rosemary is wonderful).
Cover and allow to rise an additional 15 minutes. Preheat oven to 375 degrees.
Bake 30 to 35 minutes until lightly browned. Cool slightly before cutting.
French Bread
Long, crusty loaves, soft in the middle – French bread is delicious with so many meals and can even be cut lengthwise to make subs. You can slice it to make garlic bread and even bruscetta.
This recipe comes from The Prairie Homestead. She has really simplified french bread (a notoriously challenging bread).
French Bread
1 1/4 cup warm water
2 teaspoons sugar
1 teaspoon salt
3 to 3 1/2 cups unbleached all-purpose flour
1 1/2 teaspoons active dry yeast
Place the yeast and sugar in a large bowl and stir in the warm water until everything is dissolved. Add in the salt, then stir in as much flour as you can. You might not need the full amount, or you may need more– it just depends. You are looking to create a soft, pliable dough that isn't too sticky. Knead on a lightly floured surface for 6-8 minutes, or until the dough is smooth and elastic.
Place the dough back in the bowl and cover with a kitchen towel. Allow it to rise for about an hour, or until doubled in size. Plop the risen dough back out on your counter top and divide in half. Roll each half into a rectangular shape that is approximately 8″x10″, but it does NOT need to be perfect. Roll up the rectangle starting with a long side. Pinch the ends of the loaf to seal and shape in a "log." If your seam doesn't want to stick down, you might need to dip your finger in a bit of water and moisten the dough to encourage it to adhere. Otherwise, it'll try to unroll during the baking process.
Place the loaves on a greased baking sheet to rise for another 30 minutes. Meanwhile, preheat the oven to 375 degrees, and prepare an egg wash by beating one egg with one tablespoon of water. Right before you pop the loaves into the oven, brush the tops with the egg wash and make 4 diagonal slashes across the top using a sharp, serrated knife. Bake for 20-25 minutes, or until golden brown. Allow to cool on wire racks before serving.
With these three simple bread recipes you can bake just the right loaf of bread for any situation. Homemade bread is a good answer to the eternal question how to spend less on groceries and provide your family with healthy food. Enjoy!