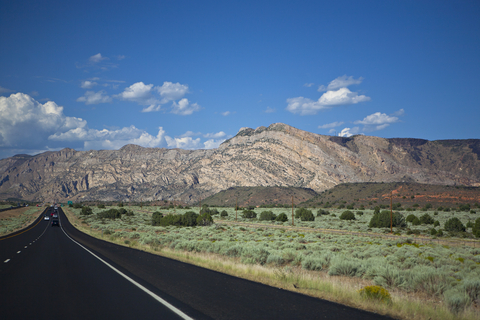 If you've ever taken a car trip you know that eventually you're going to get hungry. And if you're traveling with children it seems as if they are hungry the entire drive. Stopping to eat can be a huge waste of time as well as become quite costly.
You can plan ahead to have plenty of snacks on hand but it's important to choose foods that travel well. You don't want messy, drippy foods or things that need heated. Simple, hand-held foods, preferably that don't require utensils, are best.

Fruits and Veggies
Wash, stem, and slice as needed and then put in easy to handle bags or containers. Not all fruits or veggies will be best for travel. Delicate or very juicy fruits (think raspberries and peaches) may make for a messy ride. Some great options are:
Grapes

Apples

Pears

Bananas

Strawberries

Blueberries

Oranges (seedless and pre-peeled, sectioned)

Carrots

Celery

Cucumbers

Peppers

Snap peas

String beans
Nuts, Seeds, and Dried Fruit
There is such a variety of nuts, seeds, and dried fruit available at most stores. Many even have them in bulk sections. You can easily get a wide variety to suit everyone's tastes or make up individualized trail mix for each family member. Kids will be extra excited to see that they have their own trail mix with only the things they like in it – no picking through!
Pre-packaged Snacks
Sometimes even the most home-cooking mom needs to rely on a prepackaged snack. Car trips can be one of those times. You need things that travel well and are easily handed out to various family members. You can always make homemade snacks and package individually. If you need a few easy, grab and go snacks you could bring:
Granola bars

Applesauce in pouches (no spoon required)

String cheese or cheese cubes (kept in a cooler)

Small packages of crackers

Real fruit leather

Vegetable chips

Pita chips
Drinks
For car trips it would be wise to stick to a "water only" policy in the car. That way if there happens to be a spill (let's be realistic here) it will simply be damp for a bit and then dry. It most likely won't stain and it won't get sticky or attract dirt and bugs. If you can't handle water only be sure that at least the kids have spill proof cups or water bottles (this is wise even if you only have water).
Meal Time
If your car trip is on the long side your bound to run into meal time at some point of your trip. It's up to you if you want to take the time to stop for a full meal. If not you can pack some simple items that you designate for the meal (and keep separate from snacks so the kids don't raid them too soon). There isn't a lot of standard lunch or dinner fare that works in the car. Your best bet is simple sandwiches. Sandwiches are easily adjustable to everyone's liking and you can make a variety to change things up if you will eat multiple meals in the car. Then you just pick a few of the snack items listed and you have a complete meal.
Be sure to bring plenty of napkins and have a designated trash bag in the car (bring extras). Now you're all set to keep everyone well-fed and satisfied on your car trip. Keeping them entertained, that's a different story!
«Buy Me a Pie!» — the most convenient, easy and elegant grocery list application :
Buy Me a Pie! (iPhone/iPad) | Buy Me a Pie (Android)