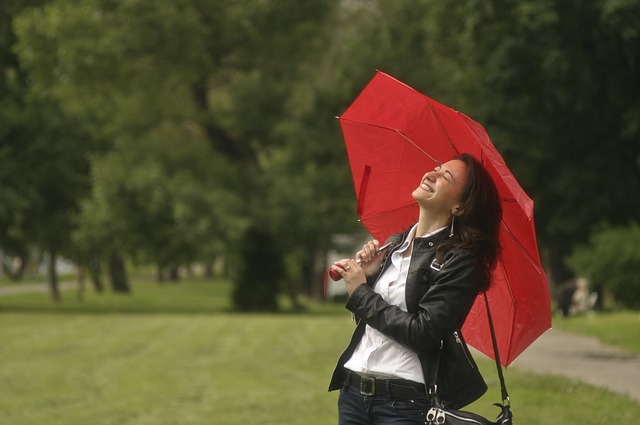 Sometimes rainy days are welcome, but at other times they really put a damper on our day (no pun intended!) The good news is that you don't need a totally new shopping list to flaunt fabulous style while combatting the raindrops. These rainy day wardrobe ideas are stellar style solutions for when you want to stay dry and cozy but still looking hot.

Black and White Beauty
You can't go wrong with the classic look of black paired with white, plus there are loads of ways to mix and match. White looks crisp and timeless while black helps to create a more slimming silhouette. Perhaps go for black jeggings or leggings and a top that combines the two colors in a funky pattern. Or, throw a black raincoat or a white button-down and black trousers. As for your shoes, we're for cute black rainboots all the way!
Show Off Your Sporty Side
When the rain falls down, you can amp up your sporty vibe with an athletic windbreaker or a stylish utility rain jacket. Feel free to play around with your favorite color to add some personality and flair to your ensemble. A playful high ponytail keeps things simple yet age-appropriate, while some super-cool sneakers will add some extra pizazz. This look says that you are ready to play in the puddles!
Flash Your Femininity
For those girls who want to be divas in the rainy weather, there is a great look for you. When the air is humid but the drizzles won't stop, flaunt a flowy and flirty sundress. Throw a light scarf around your neck or shoulders and complete the look with some floral printed rain boots. How cute is that? This ensemble can transition to chillier days; just replace the scarf with a fashionable belted trench!
Give a Nod to Nautical
For those days when the weather is beyond dreary, you can infuse a little more happiness into your life with a nautical-inspired look. Just grab some boater shoes and pair them with a striped shirt and a light or dark denim jacket. Some bermuda shorts or stylish capris will give your legs some breathing room, and a waterproof tote bag helps you to store all of your essentials, including a handy umbrella!
Working Girl Chic
What about when you need to get to the office, but the downpour is threatening to derail your style? Try these clothing tips: throw on some dark-colored, closely-tailored slacks or a cute shift dress under a structured and colorful trench coat. Some sturdy and comfortable boots will help you navigate the rainy sidewalk while still looking put-together. For even more classy flair, try incorporating metallic embellishments to your coat, shoes, or handbag.