Share the post "Last Minute Christmas Decoration – 3 Different Ways!"
Did the holidays sneak up on you? No worries, because we have your easiest décor solutions right here. Astonish guests and delights the youngsters with these adorable creations. Plus, the prep is short and sweet so you can actually enjoy the holiday season, not fret over it.
Rimmed Glasses
It's not a party until you have cocktails, right? Why not dress up those glasses with some Christmas decoration ideas!? Try doing something different besides the old salt or sugar-rimmed glasses. This tip is actually a lot easier and won't counteract the delicious flavor of those holiday drinks.
Supplies:
Cocktail glass
Saucers, 2
Liquid of your choice (citrus juice, seltzer water, etc.)
Rim ingredient of your choice (salt, sugar, etc.)
Steps:
In the first saucer, add 2 tablespoons of the liquid.
Place 2 tablespoons of the rim ingredient in the second saucer.
At a 45-degree angle, tip the glass toward the liquid saucer, holding the stem's glass.
Evenly coat the edges of the glass with the liquid.
Now do the same thing, this time tipping into the second saucer.
Use a napkin to clean the edges and remove any excess.
This is a last-minute Christmas decoration that you can do ahead of time. This way, the rims can dry before guests arrive.
Card Holder Candy Canes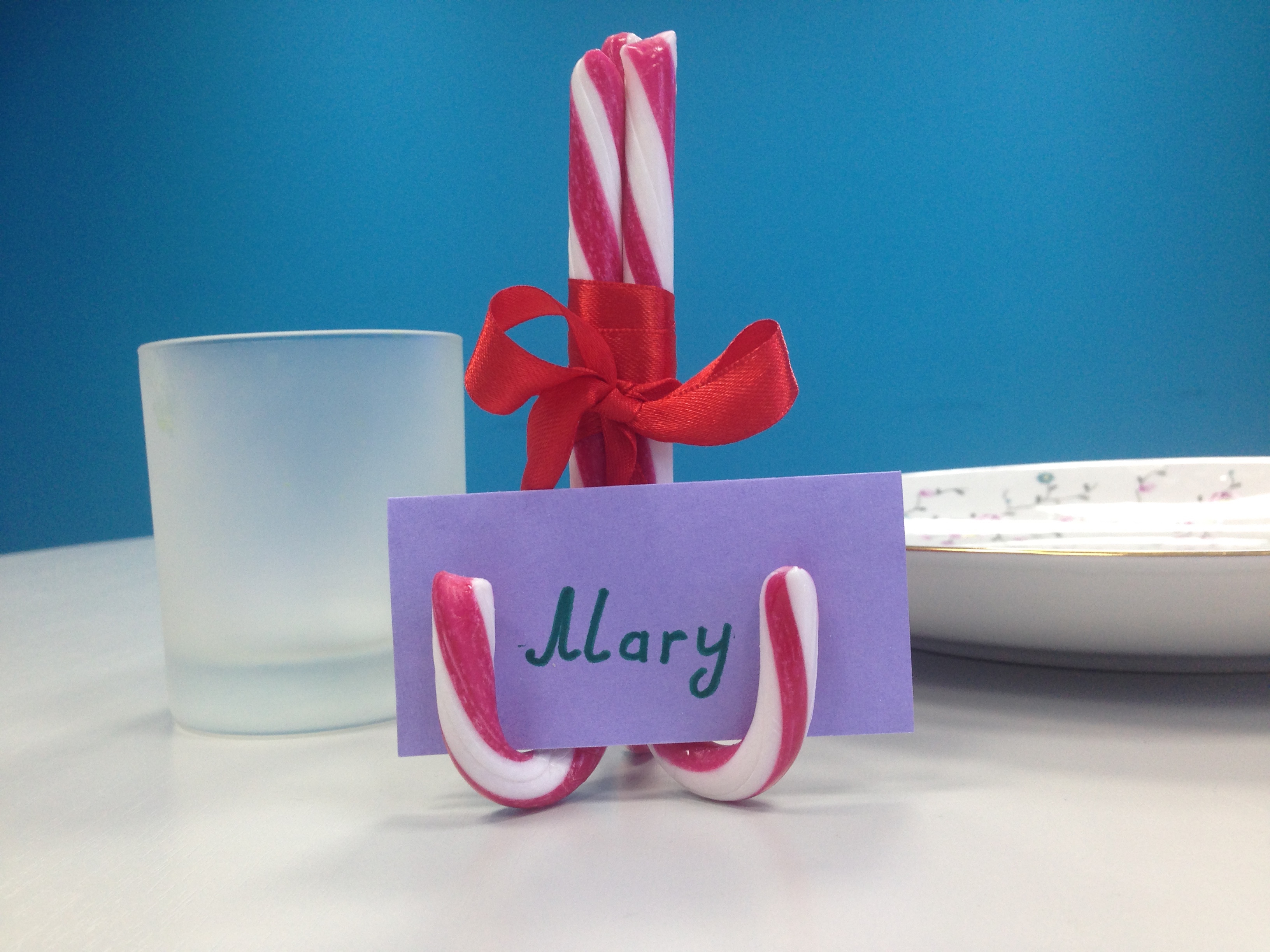 What a cute last-minute Christmas decoration! Who doesn't love candy canes? You can use these sweet treats to dress up your holiday table setting and keep everything and everyone organized. Sounds like a win-win!
Supplies:
Candy canes, 12
Tape (double-sided)
Scissors
Cardstock (photo paper works, too)
Ballpoint pen
Steps:
On three of the candy canes, stick on double-sided tape to create a tripod.
Your table card will fit in the two canes in the front.
Christmas-y Pine Cone Tree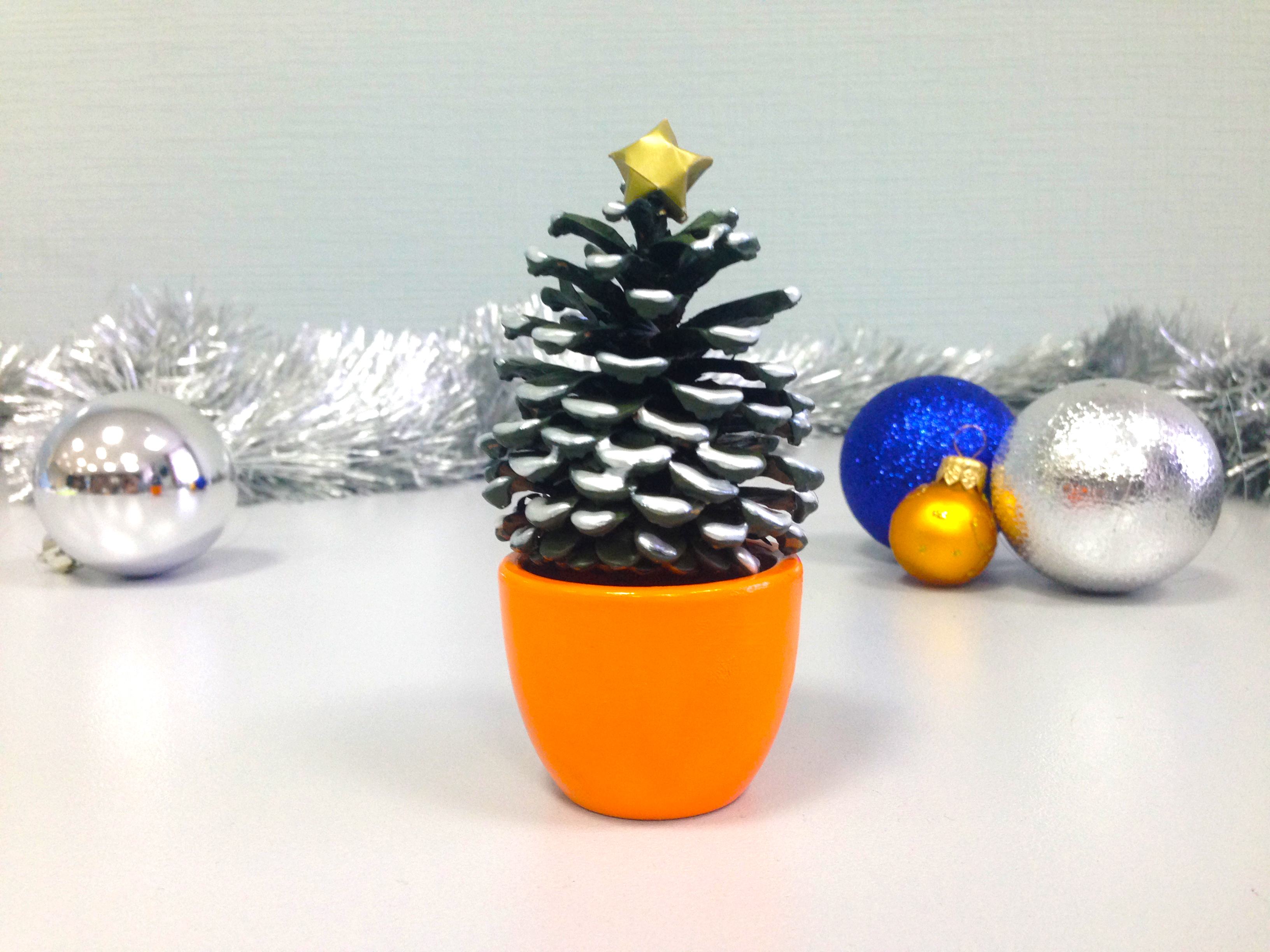 Here is one of our favorite Christmas decoration ideas. A vibrant tree that sparkles and shines brings out the best of any holiday party! Plus, the supplies are easy to add to your shopping list.
Supplies:
Pine cone
Acrylic paint (green)
Glitter
Hot glue gun (plus glue sticks)
Elmer's glue
Miniature pot
Miniature star (or other topper)
Steps:
Use the acrylic paint to color the pine cone; let dry. Dot the edges of the pine cone and sprinkle with glitter. Let the pine cone dry, then use the hot glue gun to attach the pine cone to the miniature pot. Glue the topper to the pine cone, and you're done!
For added flair, try adding white snow tips to the pine cones with some white paint.
Get the kids involved and have fun personalizing your Christmas "trees!" Ribbons, foam, beads, and rhinestones are some more options.
Share the post "Last Minute Christmas Decoration – 3 Different Ways!"