Gingerbread House
You can't celebrate the holidays without a gingerbread house! Follow our easy tutorial to make your very own Christmas decoration that kids and adults will love.
Ingredients
Butter, ¾ c
Packed light brown sugar, 7/8 c
Lemon zest, 1 t
Lemon juice, 1 ½ T
Molasses, ½ c
Eggs, 2
All-purpose flour, 4 c
Baking powder, 2 t
Ground ginger, 1 T
Ground allspice, 2 t
Egg whites, 6
Confectioner's sugar (sifted), 4 (16 oz.) packs
Instructions
Using a piece of cardboard, cut out a side wall measuring 4 ½ by 8 inches. You'll also need an end wall (4 ½ by 5 inches,) a triangle (4 ½ by 3 by 3 inches,) and a roof (4 ½ by 9 inches.) Use tape to attach the end wall to the triangle gable, lining up the long side of the triangle to the 4 ½ -inch side of the end wall.
Place the butter and sugar into a bowl; mix until light and fluffy. Add the lemon zest, juice, and molasses. Slowly mix in the whole eggs; then sift in the flour, baking powder, and spices. Mix until completely combined. Wrap the dough in saran wrap; refrigerate one hour.
Preheat oven to 375 F. Remove the dough from fridge; place on a floured countertop and portion out 6 rolls of dough; 2 of them slightly larger. Roll the 4 smaller pieces to match the size of the side wall, end wall, and triangle gables. Use a knife to cut out 2 of each shape. Roll the 2 bigger pieces and cut out two rectangles for the roof. Place all the dough pieces on a greased or lined baking sheet.
Bake the dough for 10 minutes; remove and let the dough cool on the baking sheet for 5 minutes, then transfer the dough to a wire rack. Let the dough sit out overnight so it hardens.
Whisk 2 egg whites in a bowl; adding 5 cups of confectioner's sugar a little at a time. Continue beating the icing mixture until it forms stiff peaks. Spread a 9-inch line of icing on the cardboard base and stick on one of the side walls. Add icing to the base and side of an end wall; attach it to the side wall. Repeat for the other walls to form the sides of the gingerbread house. Let stand for at least 2 hours before adding the roof. To attach the roof, line the tops of the walls with icing and press the roof into place. Let the house sit overnight to harden.
Now stir together the decorating icing. Whisk 4 egg whites and remaining confectioner's sugar to form stiff peaks. You can use the icing as an adhesive for other candies and it make snow on the gingerbread house. Sift sugar over house to create a dusting of snow.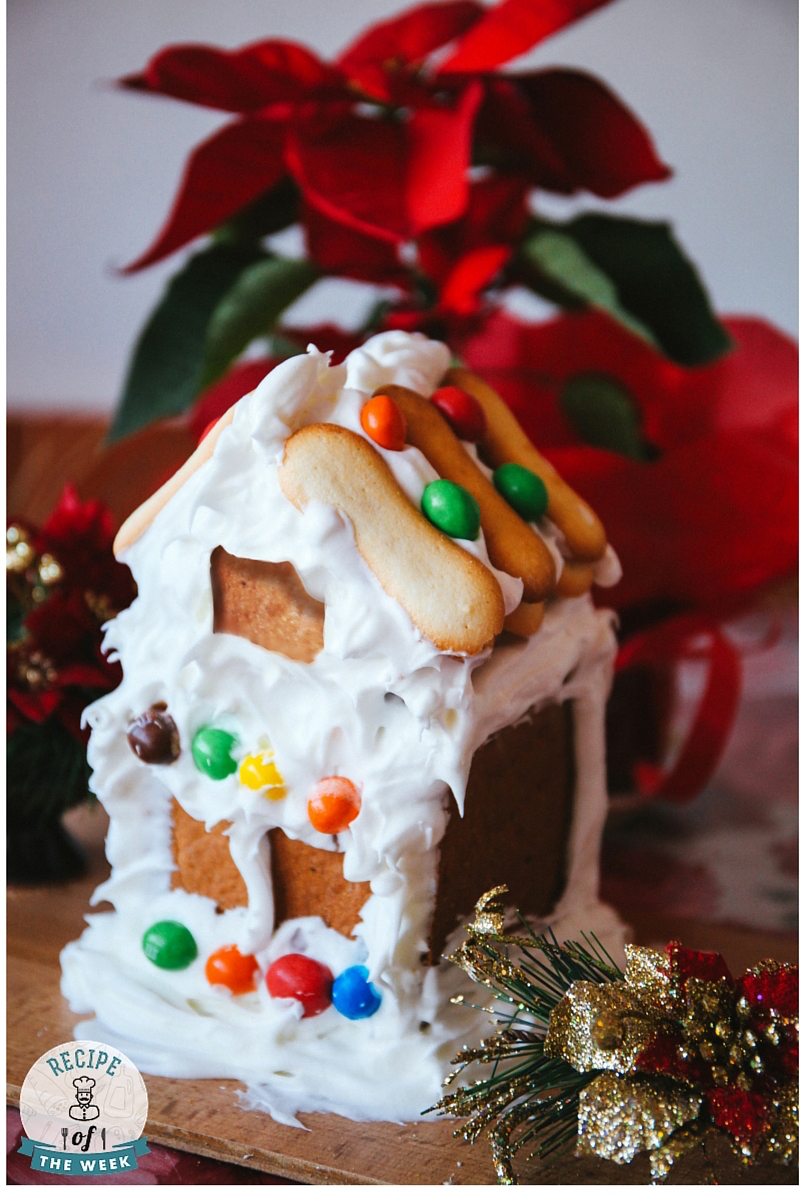 <!– Facebook Pixel Code –> <!– End Facebook Pixel Code –>