A lot of people looked to Coachella, the big spring music event of the year, for style inspiration. And while we saw plenty of awesome fashions, there were definitely many different hairstyles that we had our eyes on. So here is a run-down of some of the season's hottest hairdos that will have you looking chic, fresh, and so on-point. We have got one style that is for those who consider themselves trendsetting daredevils, as well as another hairdo that is more sophisticated and classy. Bonus points for adding some fun new outfits to your shopping list!

The Crown Braid
This is such a great look for summer. Regal and refined, yet edgy and cool, this is a hairstyle that looks super intricate but can be done in a snap!
Start on the left side of your head, separate a portion of your hair from right above your ear. Make the portion about 1 to 2 inches wide.
Next, braid this section of hair. You can do a French braid, and "inside-out" French braid, a Dutch braid, or just a regular braiding style. Just be sure to make it a tighter braid.
Then you need to repeat this step on the right side of your head.
Take one of the braids and pull it behind your head, resting it about 2 inches above your neck. You don't want to pull it straight back; rather, make sure that it hangs a bit loose so that it looks like a crown. Hold the braid in place with one or two Bobbi pins. Pull the other braid behind your head and secure it with the pins.
The rest of your hair should be hanging down loose, so that it looks as though you are wearing a braided "crown."
Spice things up: For more excitement, you can weave a ribbon into your braid at the start. Or, instead of wearing your hair down, you can pull all of your hair back while maintaining the crown braid.
The Double Bun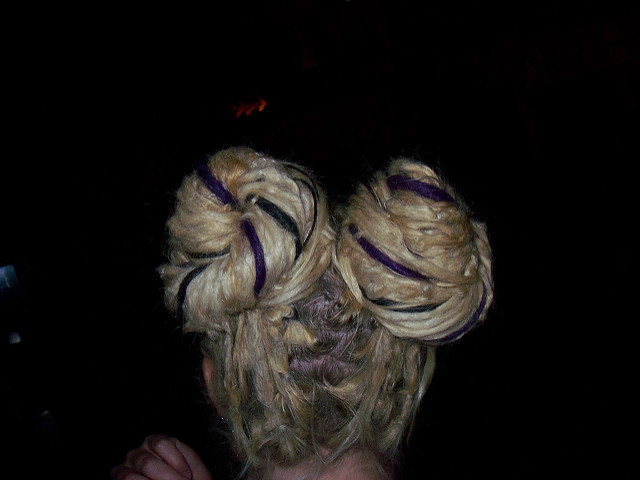 @photo
Seen on the likes of Ariana Grande, Kendall Jenner, and Khloe Kardashian, the double bun is a perfect homage to the popular British girl group of the 1990s, The Spice Girls.
To start, simply divide your hair into two equal parts, using a center part to separate them.
Now you have to put those two parts into pigtails. It is best to position them on top of your head, but more towards the back.
Next comes the fun part! Use your hands to twirl each pigtail as if you were rolling up a cinnamon bun. Secure the bun with a hair elastic and repeat on the other side. Ta-da!
Spice things up: If you want to add even more glitz and glam to your look, try braiding the pigtails first. You could also incorporate some cool hair accessories, such as clips or even hair glitter.