Share the post "How to Make Fresh Summertime Beverages from Fruits, Herbs and Flowers"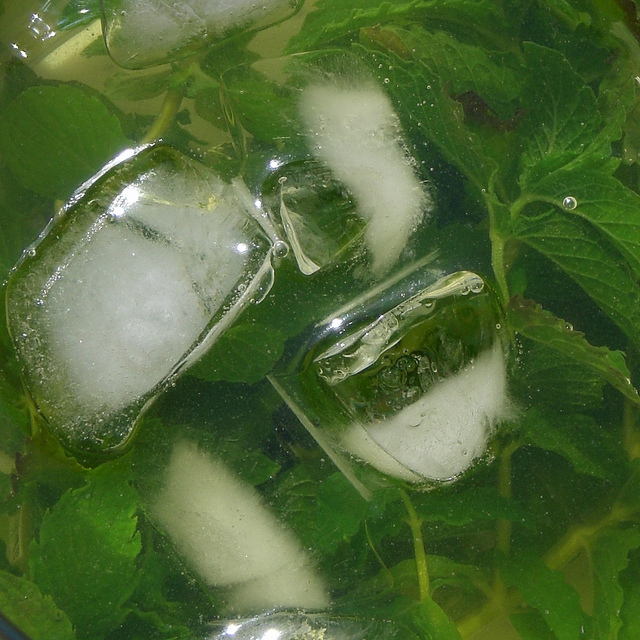 When the weather is heating up, it's time to reach for an icy, tinkling beverage. Here are some suggestions for naturally sweetened and unsweetened beverages that also have some summertime flavor.
Ice teas
Herbal teas are delicious, but small packaged boxes can get expensive, especially if you're making quarts of iced tea for your friends or family. Look for places where you can buy teas, herbs and dried ingredients like hibiscus in bulk, perhaps at organic or health food stores.
Once you've found a source of affordable, quality teas and dried flowers you can create your own tea blends—they will be so delicious no one will ask for sugar!
You can make citrusy tea blends with hibiscus, rosehips, lemongrass, and dried orange, tangerine or lemon peels. Soothing teas can be made using chamomile, peppermint and other herbs. Dried hibiscus flowers impart a deep rose color to the tea, and studies report that hibiscus tea dramatically lowers blood pressure. From the garden, you can also add seasonal flavors with fresh lavender, mint, or basil.
It isn't necessary to boil the water for tea. Just add 4-5 tea bags to 2 quarts of cold water, or tie the equivalent in loose tea, dried flowers and herbs in a square of cheesecloth and let it steep in the refrigerator. A large glass or clear plastic pitcher will let you see when the tea has steeped.
Thick and Rich Smoothies
Summer and bananas go together like sea and sand. If you have some bananas that are starting to turn brown, just peel them and freeze in a resealable bag. Instead of making fruit smoothies with ice cubes, just use your frozen bananas! (Kids also love frozen banana treats – try dipping in milk and then rolling in cocoa or coconut.)
Smoothies aren't just for the health-conscious—they're a great way to create a thick, cold "shake" from ingredients in your own fridge, orchard or garden without investing in expensive, sugar-laden ice cream. Kiwis are also great for smoothies. When totally ripe, just shave off one end of its hairy skin and gently squeeze—the fruit should pop right out of its skin! In fact, when kiwis get too soft to look attractive when served fresh they are at the perfect stage for freezing. Just pop them out of their skins and freeze them. Blend some frozen kiwis with orange and pineapple juice for a delicious pick-me-up. Or add some fresh lime juice and a shot of Tequila for a kiwi margarita!
Pretty much any fruit that isn't too fibrous to whir in a small blender will be great in a smoothie. Just add a small amount of milk, juice, water or yogurt and whir away. If you find neglected or forgotten fruit in your refrigerator, pick out the best of it and freeze it in a gallon size resealable bag. You can add all kinds of fruit to the freezer bag until you have enough for a smoothie—unless of course your family discovers it and relishes the frozen berries and fruits as snacks.
Lemonade and Citrus Refreshers
Homemade lemonade made from fresh lemons is so vastly different from powdered versions, you wouldn't recognize it as the same beverage! And it requires very little in the way of ingredients. For a quart of lemonade, take 3 to 4 lemons, halve and juice. Add a ¼ cup of sugar or Grade B maple syrup. (The maple syrup has important minerals and nutrients that sugar does not have, and it's much more flavorful.) For a little extra zip, add a pinch of cayenne—it's surprisingly tasty! Add a full quart of water. If you like to sip lemonade slowly on a hot day, you can use less water, resulting in a strong, tart beverage which you can then pour over a full glass of ice, which will melt down to just the right level of sweet-tart pleasure. You can also combine your lemonade with a splash of sparkling water for a light, bubbly beverage.
Any citrusy fruit can made into a refreshing drink, although the sweeter fruits are better for juice. Lemons, limes, and grapefruits make the best summertime beverages, plus they require less fruit! You can turbo charge any citrusy drink by adding a few crushed berries for color and flavor, lavender, or mint leaves.
Sweet-tart drinks can also be frozen in popsicle cups with wooden sticks, frozen in mini-muffin tins for delicious "ice cubes", or made into a frozen sorbet for afternoon snacking or a light dessert.
«Buy Me a Pie!» — the most convenient, easy and elegant grocery list application :
Buy Me a Pie! (iPhone/iPad) | Buy Me a Pie (Android)
Share the post "How to Make Fresh Summertime Beverages from Fruits, Herbs and Flowers"