Share the post "«Buy Me a Pie!» — one of the world's most popular grocery lists for iPhone Birth and Growth Story"
Despite the widely spread belief that nearly every promising and persistent developer is destined for immediate success in Silicon Valley, that's hardly true in real life and happens about as often as winning the lottery. In most cases huge success is built upon a series of little victories for your team from the very beginning. The more time that passes since your last little victory, without a new little one, the less chance you have for huge success.

That's sort of how «Buy Me a Pie!» has become one of the most popular grocery list apps for iPhone in the world. It stays at  the top of the Productivity category in the US App Store. This position cannot be purchased or cheated – «Buy Me a Pie!» takes it just because more and more people buy and use it.
It's a curious thing to feel that you've come up with one of the most convenient apps for shopping, used by millions of people. Besides thinking of the idea itself, there is a complicated and time-consuming process of bringing this idea to life, and then promoting your idea, which is not an easy task either.
It all started with two books. The first one was Innovator's Solutions, which tells about disruptive innovations – how simple products can outdistance the complex and long-living ones on the market. That was a really stunning discovery for me.  Then followed the canonical Getting Real from 37signals. Its fundamental idea of keeping a product simple provoked searching for ways to realize these principles. A couple of weeks after I had finished reading Getting Real I found myself in a supermarket reading and re-reading a text message with  a shopping list from my wife. That was the moment I came up with «Buy Me a Pie!» The concept was plain: a shopping list for couples. Some really simple solution that lets a wife fill out a list at home and her husband receive it to his cellphone on the way to a store. A nice application, easy and quick list creation, convenient for being used in a store. Synchronization. Easy as a pie!
That was exactly the concept I provided Oleg Nederev, the company co-founder. His verdict was simple as well – we must do it. About a month after we'd started working on «Buy Me a Pie!» I showed its prototype to Ruslan Fazlyev, the founder of Ecwid and a friend of mine. At first he was skeptical about the idea of making one more product list app, since there were already many popular ones available. My point was that such universal applications were either too complex, or lacked synchronization, or just were not attractive in terms of design. By that time App Store provided over a hundred shopping lists, but none of them could be called "cute, useful and simple" – the idea we actually had behind our app. That convinced Ruslan we had the chance to succeed.
Of course, we faced many issues while creating our simple app. Several times we had to stop the product development and twice we started it from scratch.
In March 2011 we suddenly came across an Android app called «Za pokupkami» (later renamed to «Listick»), from the i-Free company, with an interface astonishingly similar to ours. We were shocked because it is just not possible to create such identical things by coincidence! However, we analyzed the situation and finally came to the conclusion that was indeed an accident. Similar in design, «Za pokupkami» had an absolutely different concept. And it was for Android, while we were fully focused on iOs. Later on we met i-Free representatives, and they told us they had the same suspicions about us as we used to feel about them. But we managed to dispel all the doubts very quickly by showing «Buy Me a Pie!» prototype dated 2010.
We launched «Buy Me a Pie!» on May 31 2011. On that day it appeared in the Russian App Store only, where we felt quite confident due to the success of «Holidays Calendar», another app of ours. Within a few days we reached the second place in the Russian App Store.
We were happy to see the good sales of our app and the short time it took to reach the top of the ratings. But the best thing about it was the high evaluation of the app by our users. From the launch of the first version and to this day we keep the rating of 4.5 – 5. That's really extraordinary for  the App Store. I'm apt to believe that the real cause of these high values was the profound user testing. We invited common iPhone users to our office and watched them trying to cope with the app. As a result we made dozens of changes, aimed at  user experience improvement.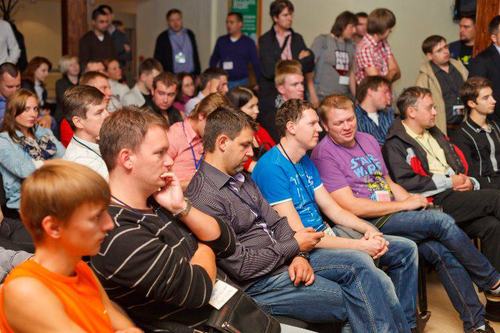 In August «By Me a Pie!» was launched on the international market. Then came several hard months as we tried to find a way to gain popularity there.
In January 2012 Apple made «Buy Me a Pie!» the App of the Week in the Russian App Store. Though we were in the top positions there by that time, it was still a surprise.
In February, 2012 a free app version was released, and a new version with native iPad support appeared in the App Store.
And then followed a significant breakthrough in the Western market – we made «Buy Me a Pie!» free for 4 days and got over 200 thousand downloads. It let us take the first lines in the ratings of many European countries, and it was our first real huge success. After setting the app back to paid, its daily sales tripled!
At The Next Web conference in Amsterdam we met  Natasha Jäger, who liked our project and introduced us to many interesting people, bloggers and investors. After The Next Web, dozens of articles about «Buy Me a Pie!» appeared in popular online resources. Even The Next Web itself wrote about us!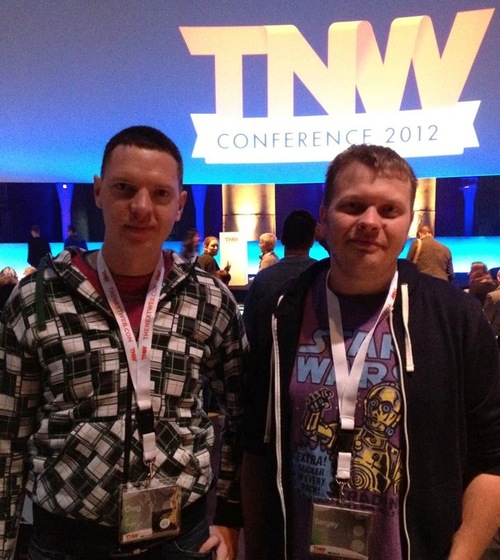 In September an article about us appeared on Techcrunch, and I can hardly say what can be considered a better indicator of success in our sphere than a publication there.
The release of iOS 6 brought another victory to us – on the very next day our sales started growing rapidly, and in a few days we overtook our main competitor in the American App Store – «Shopping List (Grocery List)» application, a very old app, with hundreds of thousands of users, but not updated since September 2010.
This is not the «Buy Me a Pie!» story. This is the beginning of its story. We are about to release version 3.0, that contains many long-expected features and changes. And the Android version development, that our users have been asking us for from the very start of «Buy Me a Pie!» existence, is also nearly completed. At the moment «Buy Me a Pie!» has been downloaded by over 3 million people, and is used by over 500 thousand people in everyday shopping.
But be sure of one thing: regardless of all the new features, it will still stay the same «Buy Me a Pie!» – nice and, most importantly, simple. Stay tuned!
«Buy Me a Pie!» — the most convenient, easy and elegant grocery list application :
Buy Me a Pie! (iPhone/iPad) | Buy Me a Pie (Android)
Share the post "«Buy Me a Pie!» — one of the world's most popular grocery lists for iPhone Birth and Growth Story"