Marshmallows have been around since the dinosaurs, right? Actually, even though it seems like Rice Krispie treats and s'mores have been making childhoods cozy for like, forever, they were invented in the 1800s as a remedy for sore throats. Considering they were made from a plant back then, though, they were probably considerably less tasty!
Today marshmallows are a well-established sweet made from much yummier ingredients, but that hasn't stopped them from being put to new uses. Without further ado, here are five novel ideas for getting your marshmallow on.

1. Nail Salon Accessories
Trying to give yourself a home pedicure and having a tough time staying smudge-free? Take four marshmallows and stick one between each toe, then repeat on the other side. If you've got little feet, no worries … just use minis.
2. Easy, Gourmet Cupcake Frosting
Okay, at least some of these tips should be edible, right? We are talking about marshmallows, after all. Well, sometimes you need to frost a decadent batch of cupcakes or a piping cake, only to realize you're out of butter, sugar or some other crucial ingredient. Marshmallows to the rescue! Solution no. 1: pop a marshmallow on top of each cupcake a minute before you take them out of the oven, and they'll melt into a delicious frosting-y ooze. Solution 2: Melt them in a pan or the microwave, then spread on with a spatula after cake cools.
3. Scientific Demonstration
As it so happens, marshmallows can be of use to science. How? By illustrating what happens in a vacuum. A vacuum is a space devoid of matter, and because there is nothing to cause pressure, objects in a vacuum expand.
To illustrate this to a science class or childlike partygoers, stick marshmallows into a vacuum jar and remove the air. If you don't have fancy equipment, pop them into a wine bottle and remove the air with a vacuum pump. Voilà! Huge, puffy marshmallows providing the basic principles of science.
And if that fails, well, you can always load up your toy catapult and bombs away!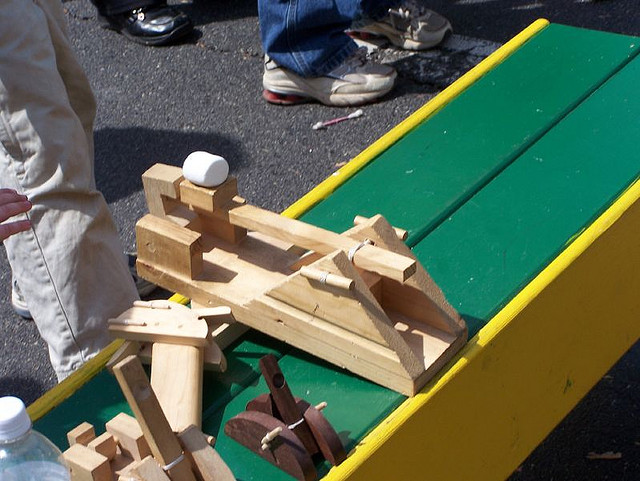 @photo
Or maybe you prefer a shooter?
4. Edible Construction Materials
Need edible glue? No problem. Stick cake layers together or adhere gingerbread house fixings with melted marshmallow. It's sticky, strong and utterly delicious, so where do you go wrong?
5. Party Pops
To make the easiest, yummiest party pops ever, poke popsicle sticks or paper lollipop sticks into the bottoms of marshmallows. Set out a bowl of molten chocolate and another bowl of fun sprinkles. Roll the marshmallow first in chocolate, then in sprinkles, and leave to dry. You can either set them upside down and serve like that, or poke the sticks into a block of Styrofoam to dry upright.
See? You knew there was more to the humble marshmallow than met the eye, you just needed a little inspiration. Next time you've got a surplus of this sweet treat (like that's even possible!), try one of these fun tricks.