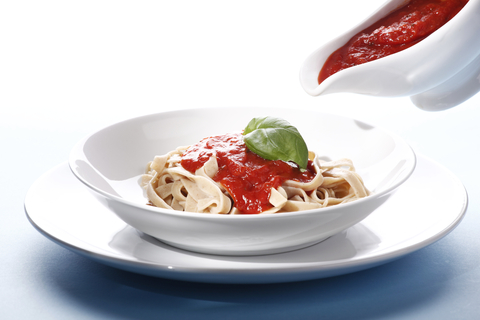 We've all had that moment. You know the one, when someone unexpectedly shows up at your door to visit. Of course it's lovely to see them but there is one problem… what do you feed them? Perhaps they only intended to drop by for a bit, as they just happen to be in the neighborhood. But often, time spent with friends moves very quickly and next thing you know everyone is getting hungry.
If you're like me you put a lot of planning into your meals so impromptu dinner guests can be a bit stressful. But there are ways to take the stress out of the situation and simply enjoy your guests while still feeding them well.

Pasta
Pasta is a great meal for a crowd because it can really be stretched and it's great for impromptu guests because it cooks quickly. Both frozen and dried pasta are easy to keep on hand as is jarred sauce or canned tomatoes, which can easily be jazzed up to make them taste guest-worthy. Toss a quick salad and you're ready to eat. Add the supplies for some of the following dishes to your grocery shopping app:
Baked ziti
Ravioli lasagna
Spaghetti and meat sauce
Rotini with pesto
Sandwiches
It may sound overly simple but sandwiches are a great option. It's likely you have everything you need to make at least one kind of sandwich and possibly make a variety of sandwiches to choose from. From grilled cheese to leftover roast chicken there's sure to be something for everyone. You can add some chips and fresh fruit and you have a complete meal.
Appetizers for Dinner
Sometimes the answer is to think small. Who says you have to cook up a big traditional meal? You could set out several trays with a variety of finger foods and appetizers and your guests can serve themselves. This allows you to keep the casual atmosphere going and everyone can stay parked in the living room or on the back deck. Many stores sell frozen, pre-made appetizers such as mini Quiche and pin wheel sandwiches. Having these on hand can make it easy to entertain. In addition to these you can serve:
Fruits
Vegetables
Nuts
Cheeses
Olives
Meats
Old Standby
Everyone has a few recipes they can always count on in a pinch. Those recipes that you seem to always have the ingredients for and can whip up at the last-minute. Sloppy Joes, vegetable soup and chili are a few I can always count on. Keep the ingredients on hand for those few go-to recipes and you'll look at ease and well prepared to feed a crowd.
Use Your Freezer
When you are cooking or prepping regular meals, make some extra and pop them in the freezer for occasions like this. Soups, chili, casseroles and meat can all be frozen and easily cooked or heated up when guests arrive.
You can even mix and shape cookie dough and freeze on a cookie sheet. Once frozen, place the shaped dough into freezer bags and store in the freezer. Then when company drops by you can pull out the amount of cookies you need and have fresh-baked cookies without spending time away from your guests.
With some planning and mindful kitchen stocking (check your kitchen and add any needed items to your grocery list app every time you shop) you can rest at ease knowing that when friends and family drop by you are prepared to make and enjoy a wonderful meal together, and more importantly good company.
«Buy Me a Pie!» — the most convenient, easy and elegant grocery list application :
Buy Me a Pie! (iPhone/iPad) | Buy Me a Pie (Android)