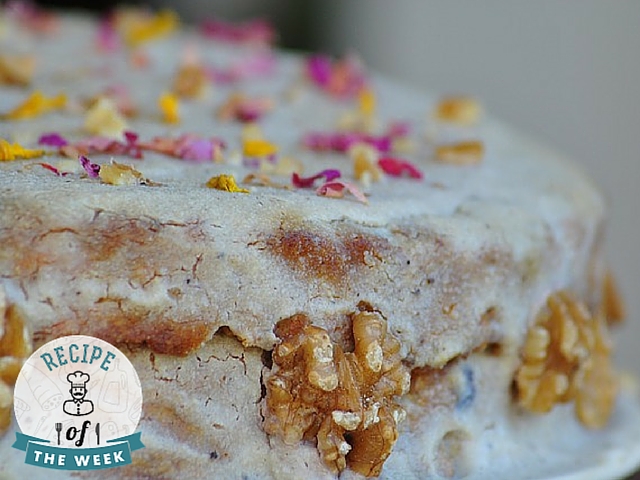 What better comfort food on a rainy afternoon than melt-in the mouth, flavoursome carrot cake, with a steaming cup of coffee? Carrot cake is a timeless classic, with recipes for cakes using the wonderful sweetness of carrots going back at least as far back as Roman times.
Rather than adding a shop-bought carrot cake to your grocery list, it is far healthier, tastier, and more satisfying to bake one yourself. This recipe makes a deliciously rich and moist cake with a crispy, almost chewy crust. It will still taste fresh several days after baking if kept in an airtight tin. The cake is quick and easy to make and tastes wonderful!

Carrot Cake
2016-05-13 13:48:55
This particular recipe uses a cream cheese frosting. Don't be tempted to use a low- fat variety of cream cheese. You'll need full-fat cream cheese to give your frosting its wonderfully fluffy texture. If you want something a little different, this cake is also delicious served warm without any frosting, with a little vanilla ice-cream on the side.
Ingredients for the cake
butter

150g

light muscovado sugar

200g

finely grated carrots (or alternatively you can pulp the carrots to the desired texture in a food processor)

225g

eggs (lightly beaten)

2

self raising flour

200g

baking powder

3 tsp

ground cinnamon

1 tsp

ground ginger

½ tsp

freshly grated nutmeg

1 pinch

salt

1 pinch

chopped shelled walnuts

50g

milk

40ml
Ingredients for the cream cheese frosting
butter

110g

full fat cream cheese

300g

icing sugar

100g

vanilla extract

½ tsp

a few walnut halves for garnish (optional)
Add ingredients to shopping list
If you don't have Buy Me a Pie! app installed you'll see the list with ingredients right after downloading it
Instructions
Pre-heat the oven to 180 C. (350 F., gas mark 4).
Grease the base of a 20cm diameter cake tin and line it with lightly greased baking parchment.
Melt the butter either in the microwave or in a heat-proof bowl set over a pan of simmering water, add the sugar, grated carrots and gently beaten eggs. Beat the mixture together until smooth.
Sieve together the flour, baking powder, cinnamon, ginger, nutmeg and salt, then pour into the bowl containing your carrot mixture. Fold until evenly blended. Add the chopped walnuts, and milk to the mixture and blend it together.
Pour the mixture into the prepared cake tin and place this on the middle shelf of the preheated oven. Bake for about an hour until the cake springs back when lightly pressed. A knife or skewer that you insert into the middle of the cake should come out clean.
While the cake is in the oven you can start preparing the cream cheese frosting. Whisk the butter until smooth and creamy. Add the cream cheese and vanilla extract and continue to whisk them together. Once they are blended you can add the icing sugar, working it in with a large wooden spoon.
Allow the cake to cool, and then remove from the tin and spread the cream cheese frosting mixture over the top of the cake.
You may want to arrange some walnuts on top of the frosting.
Print
Buy Me a Pie! https://blog.buymeapie.com/
<!– Facebook Pixel Code –> <!– End Facebook Pixel Code –>
✕
Get new recipes on a weekly basis
Related posts: