Share the post "Incredible Chicken Recipe That Requires 2 Ingredients Only"
Eating chicken the same way everyday can get so boring and you could find your taste buds losing interest in this great staple food. So why not try other recipes with chicken as the main ingredient and see how it turns out? We have the best and easiest one right here; a 2-ingredient chicken recipe. Sounds unrealistic, right? Of course you want to maintain a stable budget while still doing miracles in your kitchen. We prepared a tantalizing chicken recipe for you that will cost you less than $15 for 4-6 servings.
We are talking soft, juicy and boneless chicken pieces with crusty skin that your friends and family are going to enjoy to the last piece. Preparation takes few minutes and few steps. This kitchen recipe is a perfect serve for dinner with salad and fries then finish it off with a nice dessert.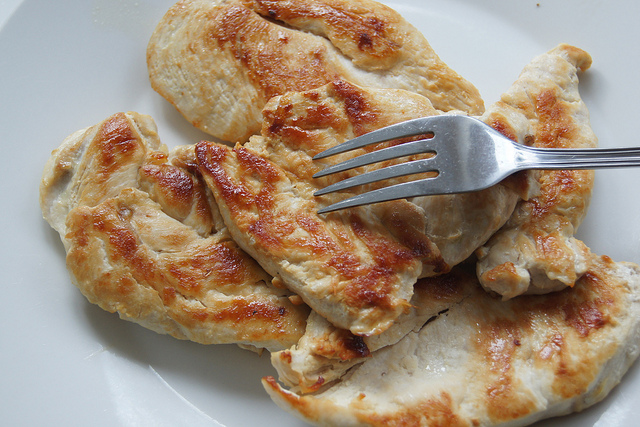 @photo
Ingredients:
1 whole deboned chicken of about 4 ½ pounds (let the butcher debone the chicken for you because it's tricky to do it yourself at home).
1 teaspoon kosher salt.
Directions:
Divide the chicken into big pieces without removing the skin.
Salt the chicken chunks with 1 teaspoon of kosher salt 1-3 hours prior to cooking.
Put the salted chicken in the refrigerator and leave it there until 10 minutes before you start cooking.
When you are ready to cook, preheat the broiler/oven.
Put the chicken on the rimmed pan with the skin side facing up and set it under the broiler. The pan should be placed about 3 inches from the heat for browning and crisping of the chicken skin.
To enable the chicken to have an even browning, rotate the pan a few times.
The process of broiling should take 10 minutes. Afterward, reduce the temperature to 2500F and cook for 25 minutes.
The chicken is now ready. Transfer it to a flat board and cut into relatively smaller cubes.
Transfer the chopped chicken pieces into plates ready for serving. You can eat with vegetable salads, fries or some pepper sauce to top up the delicious flavor.
One of the benefits of kosher salt is its ability to cure meat. Therefore, even if you leave your chicken refrigerated to be used after a little more than 3 hours, it will still be as good as fresh. Still don't believe this unbelievable recipe exists? Just try it today. Take down your grocery list and add chicken and kosher salt.

Share the post "Incredible Chicken Recipe That Requires 2 Ingredients Only"

<!– Facebook Pixel Code –> <!– End Facebook Pixel Code –>