We know the feeling; you come home from work, you're exhausted, and the last thing you want to do is cook. Well, instead of grabbing the Chinese take-out menu, try out these awesome alternatives. They already include ingredients on your shopping list, so you're good to go!

Lovely Chicken Lo Mein
This classic Chinese dish will taste even more satisfying when you make it yourself. Plus, you won't have to worry about all of the added MSG from the take-out version!
Ingredients:
Egg noodles, 2 c
Hoisin sauce, 3 T
Chicken broth, ¼ c
Soy sauce, 2 T
Sesame oil, 2 T
Cornstarch, 1 t
Vegetable oil, 1 T
Ginger, 1 T
Garlic, 2 cloves (minced)
Onion, ½ medium (chopped)
Shiitake mushrooms, 1/3 c (chopped)
Carrots, ½ c (chopped)
Snap peas, ½ c
Chicken breast, 1 lb. (sliced)
Scallions, to taste (chopped)
Instructions:
In a small bowl, combine the hoisin and soy sauces, cornstarch, and sesame oil; reserve.
Heat the vegetable oil in a skillet over medium-high. Add the ginger and garlic; cook until golden brown.
Add the chicken; cook thoroughly. Add the vegetables; cook until tender.
Add the egg noodles, combine with other ingredients.
Add the reserved sauces; cook 3 minutes; serve.
New and Improved Potstickers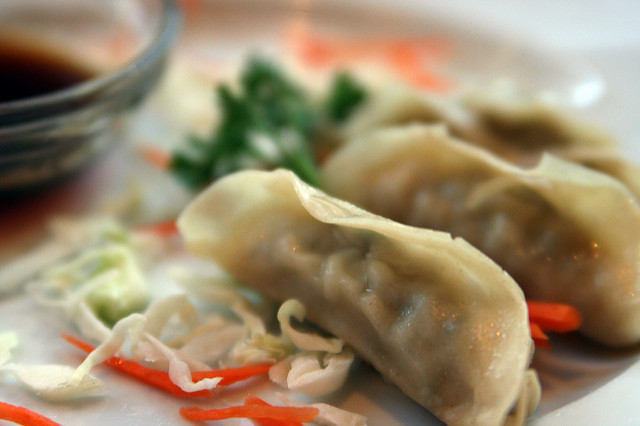 @photo
Oh yes, the ever-popular chicken potstickers can be made in your very own kitchen. Not only are they delicious, but they are super-fun to make!
Ingredients:
Chicken breast, 3 c (shredded)
Celery, ½ c (minced)
Carrots, ½ c (minced)
Cream cheese, 4 oz. (softened)
Buffalo sauce, ½ c
Water, 1/3 c
Wonton wrappers, 12
Vegetable oil, 1 T
Blue cheese dressing, for dipping (optional)
Instructions:
Combine the shredded chicken, celery, carrots, cream cheese, and buffalo sauce in a large mixing bowl.
Lay out the wonton wrappers. Spoon about a teaspoon of the chicken mixture onto each wrapper. Using your fingers, gently wet the top edge of the wrappers and fold over to seal in half.
In a skillet, heat the oil over medium-high. Place the potstickers in the skillet (creased side up) and heat until browned on the bottom (about 2 minutes.)
Add the water to the skillet and cover with a lid; steam potstickers for 2 more minutes.
Remove the lid and the potstickers; transfer to a plate. Serve with blue cheese dressing for dipping.
Egg Roll Salad
Skip the greasy egg roll and serve up this bowl of goodness instead!
Ingredients:
Sesame oil, 2 t
Ground pork, 1 lb.
Cabbage, 6 c (chopped)
Carrots, 1 c (shredded)
Onion, 1 medium
Garlic, 3 cloves (chopped)
Ginger, 1 t (minced)
Soy sauce, ¼ c
Chicken broth, ½ c
Instructions:
In a skillet, brown the pork.
Add onion; cook on medium-high until tender.
Add garlic, ginger, and cabbage; cook 4 minutes, stirring.
Add carrots; cook 4 minutes, stirring.
Remove from heat; garnish with scallions, salt, and black pepper.
<!– Facebook Pixel Code –> <!– End Facebook Pixel Code –>