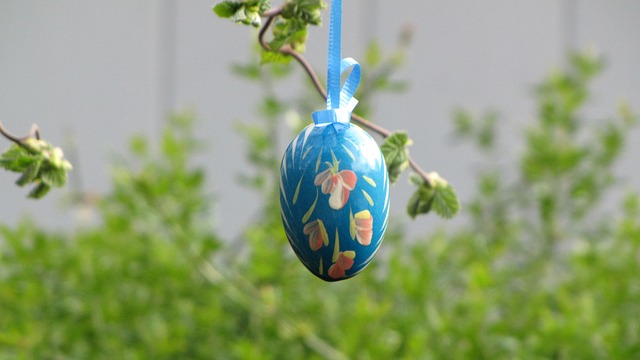 Unlike other major holidays, particularly Christmas, there are no standard traditions for decorating at Easter. Whereas this does make the task more challenging, it also gives you the chance to get creative. If you're stuck for inspiration, here are a few starting points and ideas. As many involve eggshells, remember to add "eggs" to your shopping list this week.

Decorated Eggs
Paint your eggs pastel or bright colors, perhaps adding some with glitter or ribbon. Some ideas for decorating with eggs include creating an Easter tree made from pussy willow branches, putting them in a bowl of moss or crepe paper, or scattering them around your home. Depending on how you plan to use them, you can decorate blown eggs, hardboiled eggs, or craft eggs.
Easter Wreath
There are numerous ways to create an Easter wreath. For a classic look, make your wreath from spring greenery and flowers. Another options is a living wreath, made with succulents, moss, and other plants. A third solution is to string up a ring of hollowed eggshells. You can paint the eggs or leave them natural — the latter is particularly effective if you use a combination of white and brown eggs. Add visual interest with flower (real or artificial) and leaves interspersed between the eggs.
Daffodil Cups
Kids are sure to appreciate this Easter decoration. Find a template for a flower and use it to cut out daffodils from yellow paper. In the center of each flower, stick a mini baking cup filled with candy. These make great coffee table decorations and place settings.
Easter Garland
By pulling string through blown eggs, you can create a garland for your mantel or doorway. Complete the look by tying a large ribbon at the top and sides. Alternatively, you can make a garland using your favorite Easter image, such as bunnies or flowers. Print out a template, cut the shapes in colored paper, and string them all together.
Flower Arrangements
There's nothing festive about using the vases that hold your flowers year round. Instead, pick some small spring flowers and place them in egg cups. You can even include an eggshell in your arrangement by carefully breaking the top of the egg, pouring out the content, washing the shell clean, and arranging the flowers within the shell.
It's likely that you already have many of the materials you'll need to make these crafts. Be sure to add everything else to your shopping in advance to give yourself plenty of time to create the decorations and set up your home.