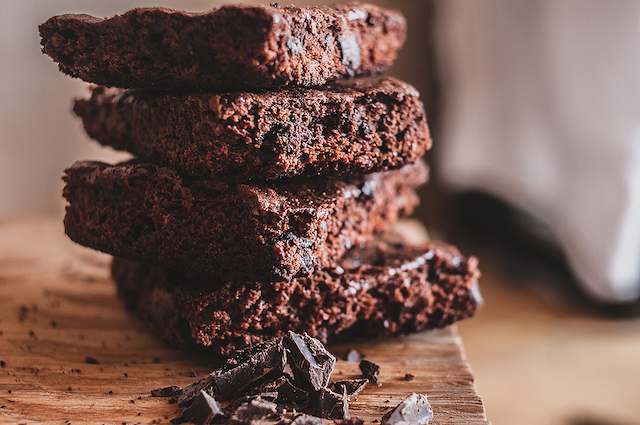 Sweet, decadent, and oh-so-chocolatey, these chewy brownies will delight young and old alike! We tried out loads of brownie recipes to find the perfect one that doesn't require an extensive grocery list. If you are looking for a recipe for chewy brownies that melt in your mouth, look no further! Brownie recipes like this one are sure to be a hit.

Yields 12 Servings
Ingredients: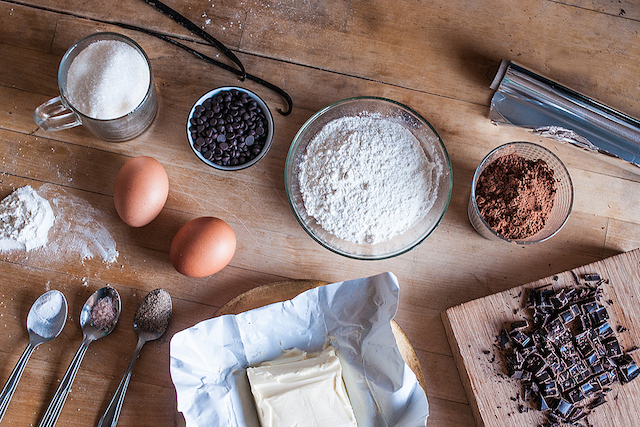 all-purpose flour, ½ c
unsweetened cocoa powder, ¾ c
sugar, 1 ¼ c
unsalted butter, 1 stick, plus 3 T
eggs (chilled), 2
baking soda, ⅛ t
cornstarch, 1 T
salt, ¼ t
vanilla extract, 1 t
semi-sweet chocolate chips, ½ c
semi-sweet baking chocolate (chopped), ¼ c
Preheat your oven to 325 F. Meanwhile, grease an 8" by 8" baking dish with oil or foil.
Combine the sugar and butter in a microwave-safe bowl and heat the mixture on high for about 1 minute and 15 seconds. Stir the mixture and set it aside to cool for about 5 minutes.
Add the vanilla extract and cocoa powder to the butter and sugar mixture; stir. In a separate bowl (or standing mixer) combine the cocoa-butter mixture with each egg, one at a time. Use a low speed to thoroughly mix everything together. (Note: the cocoa-butter mixture should not be hot, but room temperature.)
In a medium bowl, combine the salt, cornstarch, baking soda, and flour. Little by little, pour these dry ingredients into the mixer and fold everything together so that there are no more lumps.
Now use a rubber spatula to fold in the baking chocolate and semi-sweet chips.
Pour the brownie mix into the greased or lined baking dish. Bake for about 20 to 30 minutes so that the brownies are cooked through. Remove them from the oven and let them cool on the counter for 30 to 45 minutes. Enjoy these chewy brownies!
<!– Facebook Pixel Code –> <!– End Facebook Pixel Code –>