Banana Pancakes
Nothing says a lazy Saturday morning like yummy in your tummy banana pancakes. Our recipe is simple yet super delicious. Mix it up with your own favorite toppings for an easy-going breakfast or brunch!
Ingredients
all-purpose flour (leveled), 1 ½ c
sugar, 2 T
baking powder, 2 ½ t
salt, ½ t
banana (browned), 1 small
low-fat milk, 1 c (plus 2 T)
eggs, 2 large
vanilla extract, ½ t
unsalted butter (melted), 3 T
Instructions
Combine the flour, sugar, baking powder, and salt in a small bowl and whisk.
In a separate bowl, use a fork to mash the banana. Add the eggs, milk, and vanilla and whisk until thoroughly incorporated into the banana. Add this mixture into the bowl with the flour. Pour the melted butter into the mixture; fold everything together using a rubber spatula, being sure not to over-mix. Your pancake batter should be thick with small lumps.
Heat a stovetop griddle or large skillet to medium-high. Use a pat of butter or vegetable oil to grease the griddle or skillet. Using a large spoon, scoop some pancake batter and dollop it on the hot surface. Place each dollop of batter about 2 inches apart.
Cook the batter so that you see tiny bubbles, about 2 minutes. Flip the pancakes and cook for another 1 to 2 minutes. Move the pancakes to a serving platter.
Repeat steps 3 and 4 until you use up the rest of the pancake batter. You can pair the pancakes with sliced bananas and walnuts, or warmed maple syrup.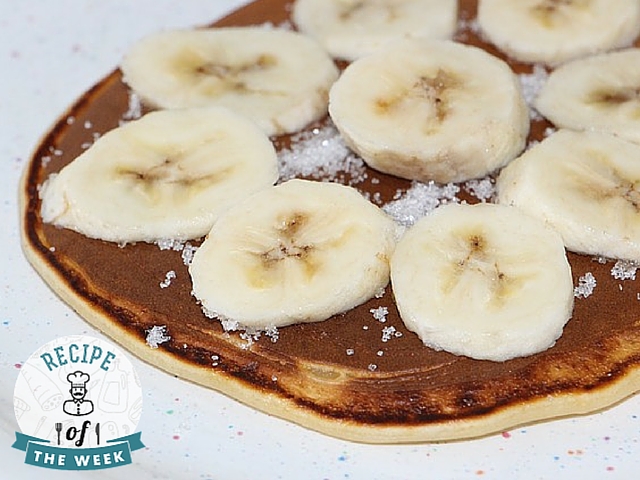 <!– Facebook Pixel Code –> <!– End Facebook Pixel Code –>