If you are tired of boring old guacamole, try an avocado pasta recipe! We have two stellar dishes that are elevated to the next level thanks to deliciously smooth avocado pasta sauce. Be sure to stock up your grocery list with these ripe fresh fruits!

Creamy Avocado Pasta
Spaghetti just got better with the addition of a luscious green sauce. This creamy avocado pasta will become the favorite in your household!
Ingredients:
Spaghetti, 12 oz.
Avocados (halved, pitted, peeled), 2
Garlic (smashed), 1 clove
Scallions (chopped), 1 bunch
Lemon juice, from 1 lemon
Extra-virgin olive oil, ¼ c
Black pepper, to taste
Salt, to taste
Parsley (chopped), ½ c
Instructions:
Cook the spaghetti in boiling salted water 6-8 minutes.
Meanwhile, combine the avocados, garlic, scallions, lemon juice, and olive oil in a food processor; pulse until a smooth sauce forms.
When spaghetti is ready, drain and reserve ½ cup of the cooked water to add to the avocado sauce.
Place the spaghetti on a serving platter. Thoroughly stir the sauce and pour it over the spaghetti. Season with salt, black pepper, and parsley; serve.
Shrimp Pasta with Avocado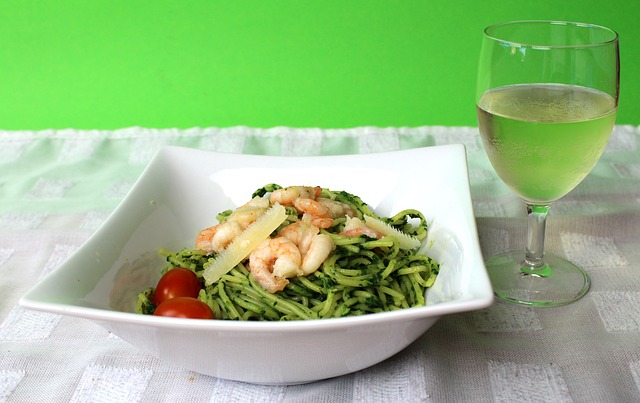 The combination of avocado and shrimp is to die for! Add some linguine al dente, and you have got the perfect weeknight meal for your family.
Ingredients:
Avocados (peeled, seeded), 2
Baby spinach, ¾ c
Cilantro, ¼ c
Lime juice, ¼ c (divided)
Olive oil, 2 T (divided)
Garlic, 1 clove
Salt, 1 t (divided)
Cumin, ¼ t
Black pepper, ¼ t
Linguine or spaghetti, ½ (13.25 oz.) package
Cooked pasta water, ½ c (reserved)
Shrimp (peeled, deveined), 1 lb.
Cilantro leaves (chopped), 2 T
Instructions:
In a food processor, combine the avocados, spinach, cilantro, 1 tablespoon of olive oil, garlic, cumin, ¾ teaspoon of salt, black pepper and 2 tablespoons of lime juice; pulse. Cover; reserve.
Boil salted water, cook linguine 6-8 minutes. Drain, reserving ½ cup of the cooking water; reserve.
Heat a skillet over medium heat, add 1 tablespoon of olive oil, the shrimp, and ¼ teaspoon of salt. Cook for 2-3 minutes, stirring until shrimp becomes opaque. Place the shrimp on a serving dish; add 2 tablespoons each of lime juice and cilantro; stir.
Add drained linguine to the shrimp; toss. Pour avocado sauce over linguine, combine thoroughly. Add some reserved cooking water if the sauce is too thick.
Garnish the pasta with cilantro; serve.
<!– Facebook Pixel Code –> <!– End Facebook Pixel Code –>